DUPNO security camera
Dupno 3G Security Camera Keeping an eye on your home is simple, even thousands of miles away. Just hook up the 3G Wi-Fi Camera ( JH09 ) and leave it running. You can check at any time through your smartphone to monitor your house and you can relax in the knowledge that should anyone break in you'll instantly be alerted with frame grabs of the intruders sent to your mobile. In peace of mind you could check what is happening in the house through 720P live video stream.
Key Features
Remote Monitoring: Keep an eye on your home from anywhere using your smartphone.
Instant Alerts: Receive immediate notifications and frame grabs of intruders on your mobile device.
Quick and Easy Setup: No complex router configuration or technical skills required.
3G and Wi-Fi Compatibility: Access live video or recorded footage using free mobile apps for iOS and Android.
HD 720P Live Video: View your home with high-definition frame grabs, vibrant color representation, and clear audio.
Night Vision: Capture clear footage even in low-light conditions.
Infrared Detection: Detect any movements, triggering immediate alerts.
PIR Sensor: Aids in detecting abnormal motion and triggering alerts.
Secure Mounting: The stand or wall mount keeps the camera securely in place.
Warranty
One year warranty is provided for all models.
Specifications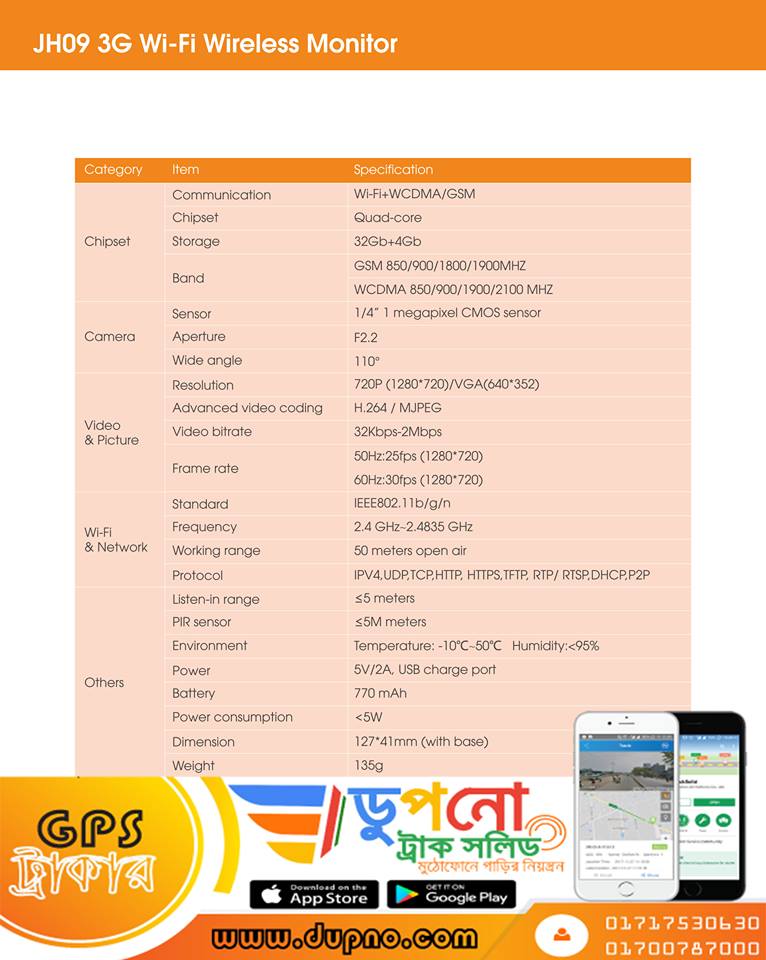 বাংলাদেশের সর্ববৃহৎ জিপিএস ট্র্যাকিং ডিভাইসের কালেকশন থেকে আপনার জন্য সেরা ডিভাইসটি খুঁজে নিতে লিংকে ক্লিক করুন   অথবা DUPNO-JH09 Outdoor 3G WIFI Security Camera সম্পর্কে আপনার আগ্রহ থাকলে এখানে ক্লিক  করে আপনার তথ্য দিন।