Elevate Your Driving Experience with Dupno GPS Tracking Service
Are you a car owner looking for the perfect blend of security, efficiency, and affordability? Look no further! Dupno GPS Tracking Service brings you a comprehensive solution that caters to your vehicle management needs, ensuring every drive is smooth and worry-free. Let's delve into the features that make Dupno Tracker the ideal choice for car owners like you.
1. Affordable and Value-Packed
At just ৳8000 upfront and a nominal Tk 500 monthly service charge, Dupno Tracker offers exceptional value for money. With a generous 3-year device warranty, your investment is safeguarded for the long haul.
2. Cross-Platform Accessibility
Whether you're an Android or iOS user, or prefer using a web platform, Dupno Tracker caters to all, guaranteeing seamless connectivity and ease of use.
3. Precision Monitoring with Advanced Sensors
Integrated Bluetooth and low-energy sensors ensure precise data accuracy. You can now keep a close eye on your vehicle's location without compromising on battery life.
4. Enhancing Safety and Awareness
With driving behavior monitoring that alerts you to harsh braking, acceleration, and cornering, you can drive more safely and efficiently. In the unfortunate event of a crash, the accelerometer-based crash detection functionality promptly responds, prioritizing your safety.
5. Comprehensive Journey Insights
Revisit your vehicle's daily, weekly, and monthly history playback to analyze and optimize your journeys. Real-time updates on engine status and live traffic keep you informed on-the-go.
6. Hassle-Free Documentation and Maintenance
Effortlessly manage BRTA documentation and receive timely vehicle service reminders, ensuring your car is always in its prime condition. Additionally, monitor and manage your vehicle expenses seamlessly.
In a world where every journey matters, Dupno GPS Tracking Service stands as your trusted companion, offering more than just tracking. It's about elevating your driving experience, enhancing security, and optimizing performance. Discover the future of vehicle management with Dupno Tracker – where every drive is a step towards efficiency and safety.
Experience the transformation today with Dupno GPS Tracking Service. For more details, visit Dupno GPS Tracking Service.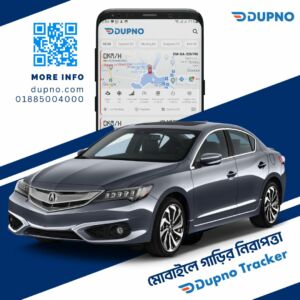 #DupnoTracker
#VehicleTracking
#CarSecurity
#DriveSmart
#GPSMonitoring
#RoadSafety
#VehicleManagement
#DriveWithConfidence
#RealTimeTracking
#SmartDriving
#EfficientJourneys
#BRTADocuments
#CarMaintenance
#SafeDriving
#TrackWithDupno